Gaming gets investors down
Nvidia perhaps needs to remind itself of the phrase "underpromise and overdeliver" as the chip maker misses even its own lowered forecast.


Nvidia shares edged down around 3% in extended trading on Wednesday after reporting second quarter earnings that missed fairly dramatically on both ends with EPS of $0.51 vs the $1.26 expected, on revenues of $6.7bn that were in line with its own lowered forecast but below the $8.1bn analysts were estimating – so not an insignificant miss.

Disappointing gaming sales driven by macroeconomic conditions were the core issue here, according to Nvidia anyway. Gaming department revenue was down 33% YoY to $2.04bn, a sharper decline than anticipated, and Nvidia said consumer demand has been quickly tapering – on the plus side, its data center business rose 61% YoY so it's not all bad.

Near-term failures are overshadowing its long-term potential. Nvidia's shares have lost 43% this year against a struggling economy, but many analysts still believe the best is yet to come. The GPU market is forecast to be worth around $201bn by 2027, and given Nvidia controls 21% of the current market, you can see the potential for success.

See all reported financials
Nana Dua / Unsplash
Subscribe to Snaps
See the market snapshots that matter and nothing else – sent to your inbox daily. Designed to be read in 20 seconds or less.
Nvidia sounds the earnings alarm
You know when you've got bad news for someone and you can't think of anything else until you get it off your chest? Yeah well, so does Nvidia.


Nvidia shares dipped 6.3% on Monday for its worst day since mid-June after the chip-maker posted preliminary Q2 earnings that show early revenues missed expectations at $6.7bn and came in way below its initial outlook of $8.1bn thanks to less demand for electronic components – Nvidia seems confident its long-term gross margin goals are intact, but let's wait and see.

The miss was largely attributed to a major slowdown in its gaming segment, which saw revenues fall 33% YoY to $2.04bn and echoing the sentiment of other gaming hardware companies. It reflects an overall change in market mood and a general decline in consumer spending – worth noting AMD as a standout in the space, which increased its gaming revenue 32% YoY.

The 'crypto hangover' ain't going anywhere fast, much like all my real hangovers since I turned 27. Channel partners – who sell Nvidia GPUs – saw lower sales on the back of a decline in the value of mining-based cryptos, which meant fewer miners looking to buy cards and more cards on the second hand market. Will crypto's current recovery help?

Javier Martínez / Unsplash
Inflation killed the Nvidia star
When the chips are down, it looks like positive earnings reports mean nada.


NVDA slid more than 6% in extended trading despite topping its Q1 earnings report with EPS of $1.36 on revenues that were up an impressive 46% to reach a record-breaking $8.29bn. Chip sales to computing cloud companies managed to outperform Nvidia's gaming business, up 83% YoY to $3.75bn.

What did Nvidia do next? Well, if its earnings report was one of its shiny microchips, it basically brandished that to investors, only to then shove it into a toaster like a pop tart. The company lowered its revenue estimates for Q2, now around $400m short of Wall St. expectations, while also admitting it is slowing down its hiring to curb costs.

Nvidia's outlook is one of a "challenging macroeconomic environment", thanks to high inflation. With NVDA already down 43% since the start of the year, investors will be hoping to see the stock bottom out soon.

See all reported financials
Matt Botsford / Unsplash
The SEC eyes crypto gains
Turns out Nvidia has been keeping its crypto gainz far too low-key for the SEC, which hands the chipmaker a hefty fine.


Nvidia will have to pay $5.5m as part of a settlement with the Securities and Exchange Commission, which says that the company failed to appropriately inform their investors about how crypto miners were fuelling heightened demand for its graphics cards. The stock lost around 1% on Friday, but is sitting at its lowest point since July.

The drama goes all the way back to 2017, when Nvidia supposedly failed to say that crypto mining was responsible for a 52% uptick in its gaming segment – the SEC says investors should have known their profits were dependent on such a volatile market.

Nvidia has sidestepped the concerns by creating its very own crypto mining chip, and added software that made its graphics cards impossible to use for mining – however, said chips aren't actually doing very well, seeing sales revenue decline to $24m in its latest quarter from $266m in Q2 last year.

Alireza Khatami / Unsplash
Nvidia says the magic $1tn words
Chip makers managed to bring out the bulls despite fighting in Eastern Europe threatening supplies.

🔍 Key points:


Nvidia got analysts excited with its investor-day presentation, where the chipmaker said that its exploration of the datacenter, automotive, and gaming markets offer a $1tn opportunity – and what investor doesn't like the word "trillion"?

Intel added to the optimistic view of semiconductor stocks. Its CEO appeared on Capitol Hill on Wednesday to argue that government subsidies for domestic manufacturing would boost national security and address the global chip shortage.

Nvidia led the gains with a nearly 10% jump on Thursday, and Intel saw its biggest one day gain in over a year with a 7% increase. At the same time though, the invasion of Ukraine could derail production of neon (a key gas ingredient for semiconductors), threatening supply chains even further.

FLY:D / Unsplash
Analysts are chipper about the future
Nvidia gets a boost from Wells Fargo, who thinks the stock has a future despite its Arm disappointment – but can the UK chip designer say the same?

🔍 Key points:


Nvidia shares popped nearly 7% on Wednesday to hit a one-month high after Wells Fargo analyst Christopher Harvey added the stock to its "Signature Picks" list.

Harvey thinks the chipmaker provides a great risk/reward opportunity and he expects a bunch of exciting developments from Nvidia's upcoming investor day that would bring in some very big profits – he gave the company a $370 price target, a premium of over 50% on Wednesday's close of $244.

But British chip designer Arm isn't feeling so hot after Nvidia's $50bn takeover failed to get regulatory approval, and is having to cut up to 1,000 jobs as it prepares to possibly be taken public by Softbank.

Griffin Wooldridge / Unsplash
Another day, another hack
The online world is becoming a battleground of its own, with Nvidia and Samsung becoming the latest corporations to be hacked.

🔍 Key points:


Hacker group Lapsus$ got access to hundreds of gigabytes of proprietary Nvidia data last week after sending out a phishing email, handing the chip maker some v niche demands – they wanted Nvidia to open source its GPU drivers forever and remove its Ethereum cryptocurrency mining nerf from its GPUs.

But Nvidia made no moves to meet the threats. Now, the hackers have leaked the credentials of what they claim to be more than 71k Nvidia employees online and say that it's in discussions with someone who wants to buy the company's source code for $1m.

And Samsung has now been hit too, with what is suspected to be the same group of hackers releasing almost 190GB of confidential data and code from various Samsung projects.

Illustration by TradingView
Tough crowd
Nvidia smashes its first earnings since abandoning its Arm deal, but gets a meek reception from a market that has mile high expectations for the chip giant.

Key points:

Nvidia easily topped on both ends in its Q4 report with EPS that had jumped 69% y-o-y to $1.32, on top of revenue that was up 53% y-o-y to hit $7.64bn. It also delivered a guidance beat as the cherry on top, forecasting $8.1bn in the current quarter despite ongoing supply shortages.

Its data center sales are popping off atm, seeing growth of 71% in the quarter to hit ​​$3.26bn in sales. It comes as more cloud providers and tech companies like Meta (FB) turn to its GPUs to power their foray into artificial intelligence and the Metaverse – a trend that's unlikely to slow down anytime soon.

Despite all that, prices dropped 8% in Thursday morning trading. Given the stock is trading at 49x its projected profit, expectations for the chip giant are through the roof and a solid earnings may not be enough to wow. CEO Jensen Huang said himself: "We all have to recognize that the market size, our market footprint, is much larger than it used to be."

See all reported financials
Illustration by TradingView
The Arms race comes to an end
After finding the regulatory gun power too much to conquer, Nvidia officially officially abandons its acquisition of chip firm Arm.

Key points:

Nvidia has officially given up its $66bn Arm takeover, which would have marked the biggest semiconductor deal in history – it'll also have to pay Softbank $1.25bn for not going through with the transaction.

The deal faced nonstop backlash from regulators in the U.K., U.S., E.U., and China; so instead of selling to Nvidia, Softbank is planning on taking Arm public in 2023.

On the plus side, Nvidia is enjoying some bullish momentum after a bunch of chipmakers released positive earnings last week and led to a few analyst upgrades – Nvidia's share price has been edging up and it's now worth even more than Meta with a $618bn market cap.

Austin Loveing / Unsplash
Is Nvidia planning on throwing in the towel?
A source told Bloomberg that Nvidia is sick of all the regulatory battles and is thinking about lifting its Arm to wave the white flag – but it seems investors are still willing to fight.


The stock is trading at a three-month low after sinking 4.5% on Tuesday and seeing last week's tech rout wipe 13% off prices for its worst week since March 2020.

It's apparently getting ready to dump its attempted $40bn Arm acquisition, according to Bloomberg's secret sources, who say Nvidia told its partners to not expect the deal to close.

It's contending with severe anti-competition concerns from regulators in the U.S., U.K., Europe, and China; as well as from its competitors and popular figures like Elon Musk.

Bernard Hermant / Unsplash
Nvidia wants to kill the spark
Nvidia is tired of Arm wrestling with regulators, arguing that U.K. has got its love goggles on.


Nvidia takes on the U.K.'s CMA, who are considering blocking its $40bn Arm takeover, arguing that their concerns are "romanticizing" Arm's history and current market power.

The deal is set to miss its original deadline of March 2022 thanks to unconquered antitrust concerns from the U.S., Europe, and China.

BofA still thinks Nvidia is a "top pick" in the semiconductor field for 2022, predicting growth of up to 30% this year and gains of nearly $100 for its stock price.

Jakub Skafiriak / Unsplash
Nvidia is losing its grip
"The largest semiconductor chip merger in history" is one step closer to crumbling after U.S. regulators pile on.


The FTC has sued to block Nvidia's $40bn takeover of British chip designer Arm, saying the merger will "stifle competing next-generation technologies."

Regulatory clouds have been gathering since the deal was announced in September 2020. The E.U. are taking their time with approval, China remains a hurdle, and the U.K. is also investigating.

Analysts and investors have pretty much written off the deal, saying it's now looking "highly unlikely" to go through.

Illustration by TradingView
Nvidia wakes up from its nap
Nvidia rebounds as the Omicron drama dies down just long enough for investors to focus on Friday's analyst upgrade.


The stock was up nearly 6% on Monday after a new Covid strain gave the term "Black Friday" a new meaning last week and sent prices sinking.

The drama overshadowed bullish coverage from BofA, which doubled down on its $381 price target and suggested that the persisting chip shortage would will mean solid demand and strong pricing power.

Luis Vasconcelos / Unsplash
Another investigation to the pile
Strong earnings may be strengthening the share price, but trouble is brewing on yet another continent for Nvidia's embattled Arm takeover.


Nvidia ended Friday up 4%, adding to Thursday's earnings-induced gains of 8%.

But the U.S.'s FTC wants to ruin the fun. Nvidia confirmed that the regulator has joined the list of those concerned about the $40bn takeover – the EU and U.K. have already launched investigations, and China is looking into the deal.

The deal won't go through unless given clearance from all four countries, which is looking less and less likely.

Chip Chip Hooray
Investors are feeling chipper after Nvidia's Q3 earnings come in sunnier than expected, building on this year's 120% gains.


Illustration by TradingView
The UK probes away
Nvidia gets dealt yet another blow regarding its acquisition of the U.K.'s biggest tech company.


U.K. ministers are poised to launch an investigation into Nvidia's $40 billion takeover of Arm – the worry is that the merger will give the pair a monopoly over the chip industry.

The EU recently launched its own in-depth probe into the acquisition, adding to a long list of opposition to the deal.

The deal won't go through unless given clearance from both regulators, which is looking less likely as time goes on.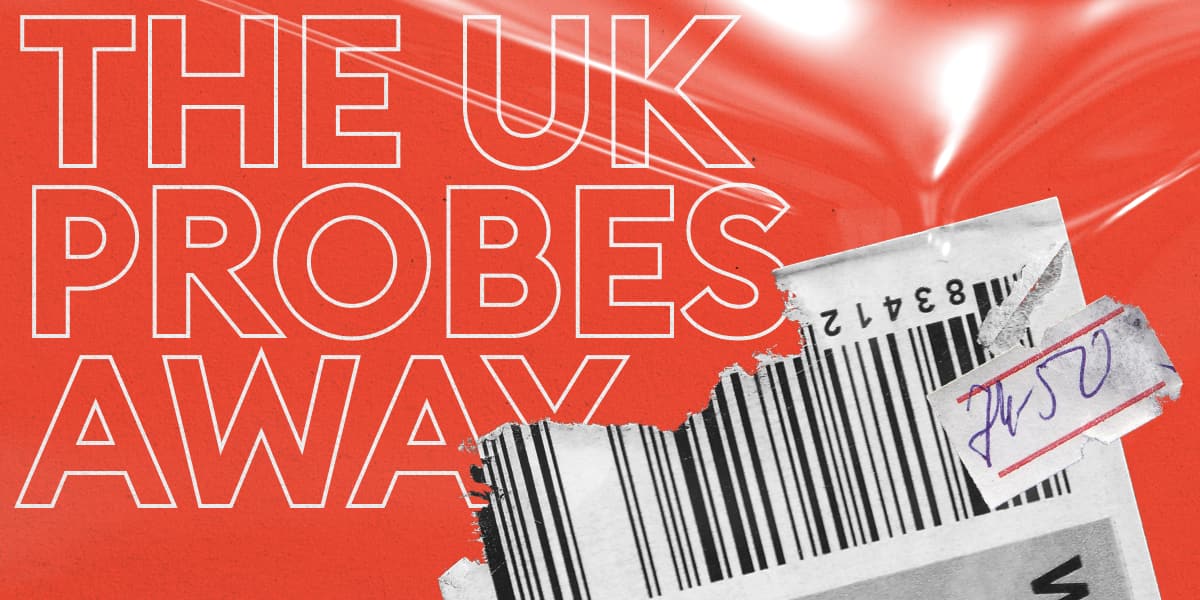 Illustration by TradingView
Nvidia chips away at the bears
Chip-maker Nvidia gets a price hike along with its six-day winning streak as another winner of the Meta rebrand.

💝 Nvidia got handed an upgrade and a $320 price target from Wells Fargo, which said that its OmniVerse network will play a big role in Meta's metaverse mission.
📈 Shares shot up 12% to close at a new high and top a $700 million valuation for the first time ever.
🔦 Meta's new focus has shone a spotlight on VR, and Nvidia's virtual network is likely to get a lot of attention as Meta grows its vision.
Pop to the top
Move over Mr Buffet – a record month sees Nvidia push past Berkshire Hathaway (BRK.A) to become the seventh-biggest company in the US.

• Highs of $267.84 on Wednesday gave it a market cap of over $660bn.
• The stock is up over 100% this year due to heightened chip demand, compared to 40% for Berkshire Hathaway.
• Investors are keen to share the love from external events like Meta's (FB) dive into AI.
Another investigation to add to the pile
The European Commission has launched an "in-depth investigation" into Nvidia's Arm acquisition, making investors' dreams of approval seem very far away.

Nvidia's proposed $40 billion acquisition of U.K. chip designer Arm faces yet another setback when the executive arm of the EU, the European Commission, officially launches an in-depth investigation into the deal that could last months. After offering a number of concessions to the deal, the regulator decided there wasn't enough evidence that the merger wouldn't cause higher prices, less choice and reduced innovation. EU competition chief Margrethe Vestager said in a statement:



Whilst Arm and Nvidia do not directly compete, Arm's IP is an important input in products competing with those of Nvidia, for example in datacentres, automotive and in Internet of Things. Our analysis shows that the acquisition of Arm by Nvidia could lead to restricted or degraded access to Arm's IP, with distortive effects in many markets where semiconductors are used.


Britain's competition regulator is also investigating the deal on antitrust grounds. Nvidia lost just over 1% on Wednesday.
Illustration by TradingView
A new chip feeds the bulls
A new crypto mining chip release last week fed the bulls' hopes that Nvidia is overcoming the battle between miners and gamers, leading to bullish coverage and a 2% lift on Monday.

Nvidia's new crypto mining monster GPU chip went on sale earlier this week in an effort to take miners' attention away from its GeForce graphics cards that are meant for gamers who are getting grumpy about sharing the tech amid a global shortage. Increased mining demand has been making an impact on Nvidia's business and chip availability, so the new release got analysts hopeful that things will soon improve for the chipmaker. Investment bank Piper Sandler lifted their price target on the stock from $225 to $260, a premium of 10% on Nvidia's closing price, saying:



For Nvidia specifically, the impact of cryptocurrency on the gaming business has been a hang-up for some investors. If the decoupling does occur, we feel the gaming GPUs will be able to meet true gaming demand, instead of potentially being allocated to cryptomining.


Nvidia ended the day up just under 2% on the news.